School Culture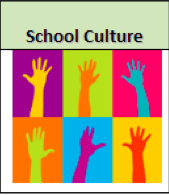 Who are we? What's happening? What is there to Celebrate? What opportunities are there to get involved? These are just a few of the questions that could be posed to the iTeam, the student government, the athletic coaches, the yearbook staff (if there is one), the club presidents, and to several focus groups. What shall we include? Who will be allowed to post? How will this get done in a timely fashion? How can we get organized? Let's start a list:
●  Sports events
●  Music and drama productions
●  Winners of any type of award
●  News of various organizations
●  Projects of community interest
●  Issues inviting comments
●  Candid camera
●  Individual student projects, hobbies, successes
●  Involvement in local, state, or national events/projects
●  School trips/field trips
●  Speakers and other guests to the school
●  Reading clubs and other groups
●  Gaming events
●  Graduation
How will you know it's working?
Frequency of posts, School wide representation, Volunteers line up to help, Students feel- ownership, Parents visit and comment.